Dr. Clifford E. McLain Audio Bible Studies
ACTS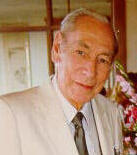 In giving us a careful work on the book of Acts, Dr. McLain has provided the connecting link between the gospels and the epistles of Paul. The Acts is a pivotal period in which God is closing the door on Israel for a time and opening wide the door for the Church Age. We cannot overemphasize studying and understanding the Bible dispensationally and making a difference as to Godís dealings with the Jews and Godís dealings with the Church. To understand Godís place for the Church in the Family of God is to be a recipient of Sovereign grace and to walk by faith (II Corinthians 5:7). To understand Godís place for Israel is to know the covenants committed unto them and the promised kingdom for those who kept the spirit of the law of Moses (Rom. 9:4,5).

The transition from Peter to Paul, from law to grace, from Kingdom Age to Church Age is of paramount importance in studying the past and future in Bible chronology.
*Downloading mp3: In order to download, right click mp3 format for the title you want and choose "Save Target As.." Specify where you would like the file saved and click Save. The half hour program typically takes 30 minutes to download with a 28.8 modem.
You'll need the QuickTime
audio player to listen
| | | | |
| --- | --- | --- | --- |
| | Acts 1:1-8 | 46 Min. | 5.5 MB |
| | Acts 1:1-12 | 37 Min. | 4.2 MB |
| | Acts 1:12-26 | 32 Min. | 3.8 MB |
| | Acts 2:1-20 | 40 Min. | 4.6 MB |
| | Acts 2:22-39 | 45 Min. | 5.1 MB |
| | Acts 3:1-24 | 44 Min. | 4.9 MB |
| | Acts 4:1-23 | 43 Min. | 4.8 MB |
| | Acts 4:23-37 | 46 MIn. | 5.1 MB |
| | Acts 5:11-42 | 53 Min. | 6.0 MB |
| | Acts 6:1 - 7:8 | 50 Min. | 5.7 MB |
| | Acts 7:9-60 | 48 Min. | 5.3 MB |
| | Acts 8:3-40 | 47 Min. | 5.2 MB |
| | Acts 9:1-31 | 39 Min. | 4.5 MB |
| | Acts 9:32-43; Acts 10 | 31 Min. | 3.7 MB |
| | Acts 11:1-19 26 min. 3,2 MB | 26 Min. | 3.2 MB |
| | Acts 11:20 - 12:17 | 38 Min. | 4.4 MB |
| | Acts 12:18 - 13:13 41 min. 4,6 MB | 41 Min. | 4.6 MB |
| | Acts 13:14-52 | 35 Min. | 3.9 MB |
| | Acts 14:1-28 | 32 Min. | 3.7 MB |
| | Acts 15:1-34 | 29 Min. | 3.4 MB |
| | Acts 15:36 - 16:15 | 38 Min. | 4.3 MB |
| | Acts 16:16-40 | 32 Min. | 3.7 MB |
| | Acts 17:1-21 | 35 Min. | 4.0 MB |
| | Acts 17:22-34 39 min. 4,4 MB | 39 Min. | 4.4 MB |
| | Acts 18:1-28 37 min. 4,2 MB | 41 Min. | 4.2 MB |
| | Acts 19:1-20 | 41 Min. | 4.6 MB |
| | Acts 19:21-41 | 35 Min. | 3.9 MB |
| | Acts 20:1-38 | 34 Min. | 3.9 MB |
| | Acts 21:1-40 | 33 Min | 3.8 MB |
| | Acts 22:1 - 23:11 | 28 Min. | 3.6 MB |
| | Acts 23:12-34 | 28 Min. | 3.9 MB |
| | Acts 24:1-27 | 24 Min. | 3.0 MB |
| | Acts 25:1 - 26:7 | 21 Min. | 2.6 MB |
| | Acts 26:1-32 | 28 Min. | 3.2 MB |
| | Acts 27:1-34 | 32 Min. | 3.7 MB |
| | Acts 28:1-31 | 33 Min. | 3.8 MB |